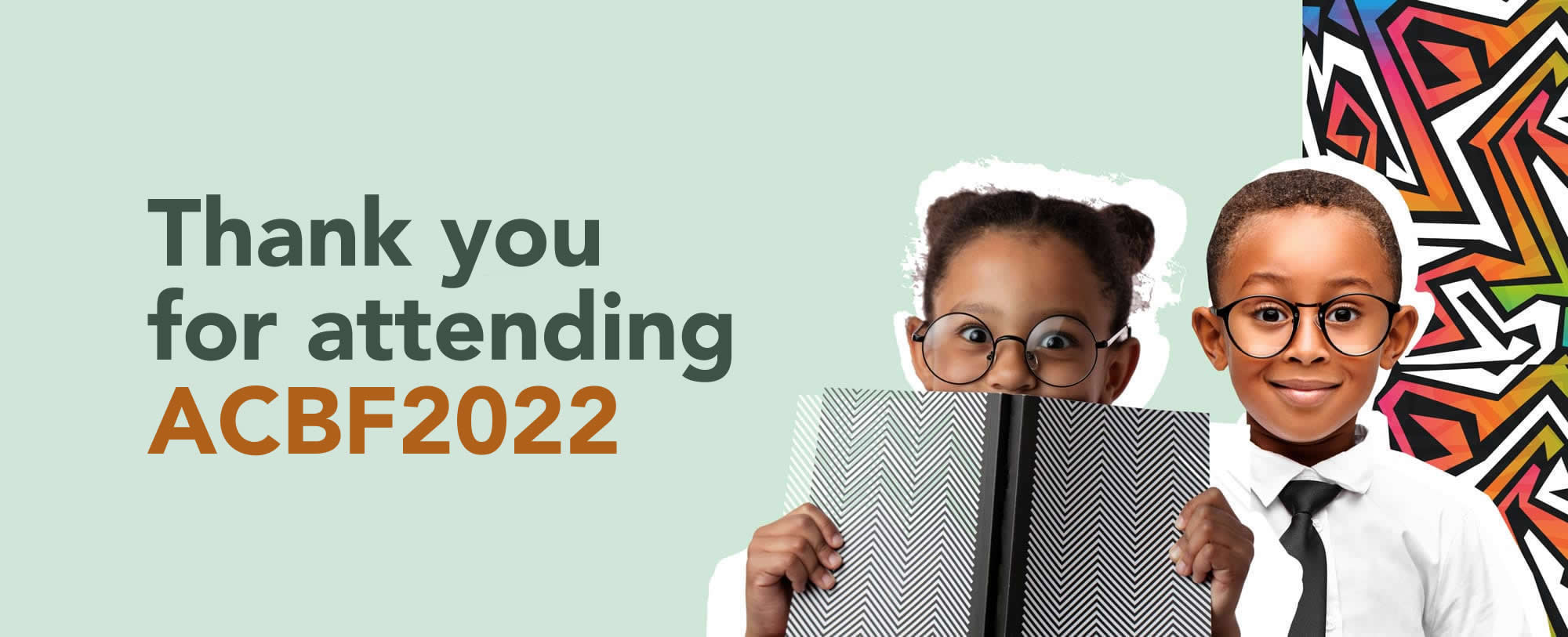 The 4th Akada Children's Book Festival
Together Again
Saturday October 29, 2022 — 8am
UpBeat Centre, Lekki Phase 1, Lagos
---
The Akada Children's Book Festival (ACBF) is a showcase of children's books written by African authors or books from around the world written for a diverse audience of children. ACBF is the first and the largest Nigerian book festival specifically for children. The gathering was held for the first time in 2019 and it attracted over 1,400 attendees.

ACBF held on Saturday October 29, 2022 at the UpBeat Centre, 11 Admiralty Road, Lekki Phase 1, Lagos.
The theme for ACBF 2022 was Together Again.

Due to the COVID-19 pandemic, the second and third editions (2020 and 2021) of the festival were held online attracting more than 1,600 participants each from across Nigeria and from over 23 countries around the world. Attendees joined the festival from Australia, Belgium, Canada, Ghana, Madagascar, United Kingdom, United States of America, Rwanda, Estonia, Netherlands, South Africa, Kenya, France, Italy, Germany, Ireland, Qatar, Libya, Norway, the Philippines, Portugal, Singapore, South Korea and Zambia. This is a testament to interest people have in culturally diverse children's books.

The 2022 edition of the ACBF was an in-person event which featured:
⭐ 23 author-led book readings & story time sessions
⭐ 5 book chats
⭐ a book exhibition
⭐ 4 professional workshops for children's book writers; illustrators & publishers
⭐ 5 mini workshops for children
⭐ music & drama
⭐ 4 insightful sessions for parents and teachers
⭐ a mother & baby room
... and much more.
Festival Highlights
Announcing the winners of Writing & Illustration Competition
Pictures from the 4th Akada Children's Book Festival.
Exciting Workshops for ACBF 2022
1 Creative Writing Bootcamp for Children's Book Authors
2 Getting Paid To Illustrate
3 Marketing & Distribution 101 - Level Up Your Book Sales!
4 3 Websites Every Self-Published Author Must Know
1 Talking To Your Children About Sex & Sexuality
2 Choosing The Right Books For Your Children
3 Tips For Handling Difficult Conversations With Your Children
4 How Do I Tell Them? - 10 Things Children Wish Their Parents Knew
1 Smart Avatar - Online Safety Tips
2 What To Do If You Are Happy On The Outside But Sad On The Inside
3 Do You Really Think I Can Do That?
4 How Do I Tell Them? - 10 Things Parents Wish Their Children Knew
5 Money Skills - The Ultimate Guide To Financial Independence For Children